Dear community, today we start with a series of presenting Nice1 community members.
With this series, we aim to present partners, advisors and most relevant characters that have joined Nice1 blockchain.
---
Today it is time to present you Elena Blanes.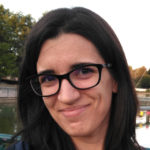 Elena, who got qualified as Industrial Technician Engeneer, is a video game passionate woman since she received a Sega Megadrive as present at the age of 9.
Years ago, Elena choose to transform her passion in her job and, thanks to it, she has become a remarkable video game developer. Amount all her achievements it can be highlighted that Elena is a Unity certified developer, as well as co-founder of MálagaJam, a videogame developer association, and XR Academy, where she teach about virtual reality development.
Elena is also the founder of Stega, a study where she works at developing virtual reality and augmented reality projects. Currently, Elena is developing a Leonardo DaVinci experiencie in virtual reality at the same time she leads videogame area of CODE SPACE, a reputated developer school in Málaga (Spain).